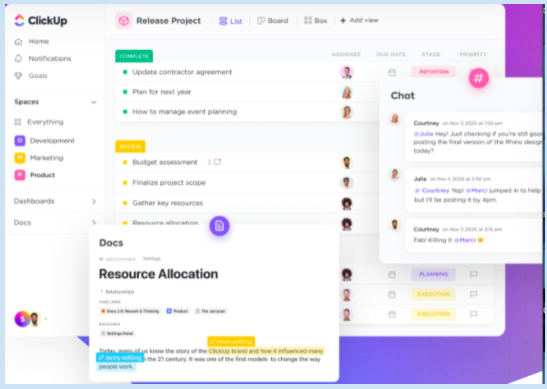 What are the benefits?

All of the work in one place: Tasks, Docs, Chat, Goals, & more.

We can manage any project from start to finish with highly customizable views that make project planning simplified.

There is a real time chat, we can assign comments for actions and linking tasks. Track progress, connect the tasks to goals and keep objectives very organized.

Clickup bring all of our customers design projects into one place with customizable views like project details on a List, workflows on a Board, or due dates on a Calendar and much more.

We can also invite our clients to track their projet progress, make comments, ask for feedback and give their approval.

Clickup provide help not only in product management but also in engineering, sales, marketing, product design, finance, human resources and IT.

To summarize, The BSense team and its customers can work together to build projects in the most effective way.